France - Some philatelic documents relating to Beethoven
There are numerous stamps and other philatelic documents from countries all around the world in honour of Ludwig Van Beethoven. Germany is one of the most prolific.
Stamps of Beethoven exist, made in France, Monaco, Austria, in African countries and in Sounth America… It is interesting to note that the anglo-saxon countries such as the USA, Canada and Great Britain have never commemorated the composer with a stamp.
All in all there exist about 200 stamps…
And here are already 150 of them, shown with their date of issue and their catalogue number (often Michel, sometimes Scott or Yvert and Tellier)… They are organised by country and by continent.
If you have scans of stamps which I don't have you can forward them to me. Thank you, in advance.
Here is the only stamp made by La Poste (the French postal service) depicting the composer. It was issued on April 27th 1963.
This stamp is the first in a series of 5 great men of the CEE: Ludwig van Beethoven (0,20 F), Émile Verhaeren (0,20 F), Giuseppe Mazzini (0,20 F), Émile Mayrisch (0,20 F) and Hugo de Groot (0,30 F).
Note that, after one catalogue of stamps, there is another version called "mèches blanches". It is probable that all of his hair is white (or none)… Another depicts the house in grey rather than cepia. But I've never seen these…have you?
This Beethoven stamp carries the number 1382 in the catalogue Yvert et Tellier, the number 1432 in the catalogue Michel, and the number 1059 in that of Scott.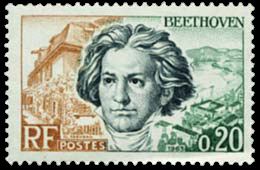 French maxicards of Ludwig van Beethoven