Ludwig van Beethoven: The Ultimate Biography and Resource
Beethoven, Ludwig van 1770-1827
Welcome to The Beethoven Experience!
At LVbeethoven.com we dive into the world of Ludwig van Beethoven – a musical genius who changed the course of classical music and left an indelible mark on the pages of history. From the grand symphonies that stir emotions to the intricate sonatas that touch the soul, Beethoven's legacy is both profound and unparalleled.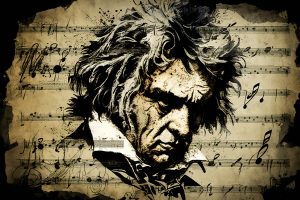 Ludwig van Beethoven: A Glimpse into the Life of a Genius
Born in 1770 in the city of Bonn, Ludwig van Beethoven was destined to be one of the greatest composers the world has ever known. From an early age, his prodigious talent was evident, and he soon moved to Vienna, the epicenter of musical innovation. Overcoming a series of personal trials, including the tragedy of progressive deafness, Beethoven crafted compositions that are celebrated for their emotion, depth, and revolutionary spirit. His works, spanning from intimate piano sonatas to powerful symphonies, not only reflect his own struggles and joys but also resonate with universal human experiences.
Throughout his life, Beethoven remained a figure of fascination, admiration, and at times, controversy. Yet, his undying commitment to his art and his indomitable spirit have inspired countless generations of musicians, scholars, and music lovers around the globe.
Your Resource for Everything Beethoven
This website is dedicated entirely to Ludwig van Beethoven and the rich tapestry of his life and works. Delve deeper and explore:
Covering all of the most significant events and contributions of the the masterclass Composer that defined an era.
A comprehensive library of his celebrated compositions.
Reviews and insights into the best books about Beethoven.
Trace the lineage and uncover the history of the Beethoven family.
Key events that shaped the life and times of the maestro.
A visual journey through the many faces of Beethoven.
Rare stamps and postal memorabilia commemorating Beethoven's influence on culture.
… and so much more!
Join us as we celebrate the life, music, and legacy of Ludwig van Beethoven, a luminary who continues to inspire the world.
What's new?
Make sure to check out our recently updated section on Beethoven Music. Includes comprehensive guides to all of Beethoven's most beloved Symphonies, Sonatas, Piano Concerto's, and more!
We are also in the process of updating and expanding our section on Beethoven Films. We provide comprehensive guides to all of the most acclaimed films that portrayed Beethoven's extraordinary impact on the world.
Beethoven – Did you know?
One of the most beloved musical geniuses of all-time, Beethoven remains one of the most popular people (albeit deceased) in the world.
Beethoven began losing his hearing in his late 20s, and by the age of 49, he was almost completely deaf, yet he continued to compose groundbreaking music.
He was baptized on December 17, 1770, in Bonn, Germany, but his exact birthdate remains unknown.
Beethoven's "Moonlight Sonata" was dedicated to his pupil, Countess Giulietta Guicciardi, with whom he fell in love.
Despite his fame, Beethoven often struggled financially and was supported by a group of wealthy patrons.
His Symphony No. 9 was the first example of a major composer using voices in a symphony.
Beethoven was known for his fiery personality and frequent mood swings, often reflected in his music.
He never married, but his Immortal Beloved letters suggest he had a mysterious, intense love affair.
Beethoven's "Für Elise," one of his most famous pieces, was discovered and published 40 years after his death.
He was a crucial figure in the transition between the Classical and Romantic eras in Western music.
Beethoven's last words were reportedly "Pity, pity—too late!", as he was told of a gift of wine from his publisher.
His Ninth Symphony's "Ode to Joy" is the anthem of the European Union.
Beethoven often dipped his head in cold water before composing, believing it stimulated his creativity.
He wrote only one opera, "Fidelio," which was revised multiple times and premiered in its final form in 1814.
As a child prodigy, Beethoven gave his first public performance at the age of 7½.
His "Heiligenstadt Testament," a letter written to his brothers, reveals his thoughts on his growing deafness and his resolve to continue living through his art.
Beethoven's compositions include 9 symphonies, 5 piano concertos, 1 violin concerto, 32 piano sonatas, and 16 string quartets.
He was known to have a messy living space and a disheveled appearance, often focusing so intensely on his work that he neglected his surroundings.
Beethoven was a great admirer of Napoleon until Napoleon declared himself Emperor, after which Beethoven famously scratched out Napoleon's name from the dedication of his "Eroica" Symphony.
His music was influenced by his love of nature, often taking long walks in the countryside for inspiration.
Beethoven's funeral in Vienna in 1827 was attended by an estimated 10,000 to 30,000 people, reflecting his immense popularity.
Frequently Asked Questions about Ludwig van Beethoven