This Beethoven film begins with the death of Ludwig van Beethoven. His secretary and long-suffering friend, Anton Schindler, starts the search for the person to whom Beethoven has left his possessions, his works, and his money. The will states: "To my immortal beloved".
In his search of clues to Immortal Beloved, Schindler goes on a journey to find the women who have been a part of Ludwig's life. In each meeting, the story of Beethoven the movie unfolds. These encounters reveal a man of extremes: a musical genius, a rebellious invalid, a melancholy lover…
Immortal Beloved Beethoven is a beautiful, splendid work of art. Gary Oldman's immaculate interpretation of the maestro is so uncanny that the viewer cannot imagine how Beethoven could have walked, laughed, or aged any differently. The women are delicate, passionate, and loving.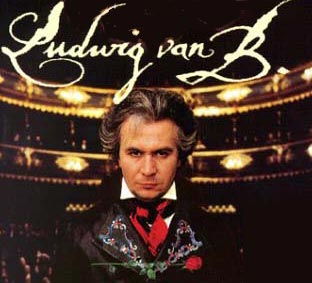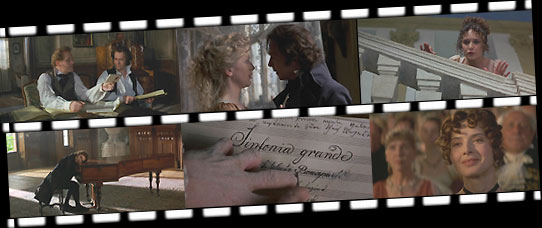 Of course, the filmmaker has his own opinions and he shows us who he thinks the 'immortal beloved' is… and explains how Beethoven became deaf in a sensitive way… Like Karl, Beethoven's nephew, you will have to discover for yourself…
While there's no doubt that all movies about Beethoven 'stretch' historical reality, this particular film is never tiring, and the flashbacks are never too heavy.
Unlike most other Beethoven movies, Ludwig is presented as a man… a genius but also a human. In the Immortal Beloved movie, you will hear his music throughout but more than that, you will see parts of yourself in his character and temperament, his violence and his anger, his genius and his love… This is the main reason why I love this movie Beethoven.
"Napoléon" by Sacha Guitry

All right, Beethoven is not the subject of this film. But he appears in one scene. Here's the decription of it…
A close shot of Beethoven shows him playing the last bars of his Appassionnata. Then the cameras pan out: Beethoven is playing for the Habsbourg court. Marie-Louise of Habsbourg-Lorraine sees the portrait of Napoléon, hung on the chimney-breast. She becomes green with rage… Soon calmed, she sits down.

Beethoven therefore plays the first movement of the Eroica Symphony. Marie-Louise recognises the music, gets up, vexed, and starts shouting again. But her father explains that she must marry Napoléon; Marie-Louise calms down again, and excuses herself to Beethoven…

Then a general of France, a diplomat, invited by the Court, begins talking to Beethoven: "Ah! You dedicated it first to Bonaparte!". Beethoven replies: " Ah yes… But then I crossed out his name… I wrote "Eroica – Symphony for a Great Man"… like that we can guess that it's for him… It's best that way "…
DER MÄRTYRER SEINES HERZENS
The Martyr of his Heart (Der Märtyrer seines Herzens): silent film of 1918 on the life of Beethoven. The film was directed by Emil Justiz, and Fritz Kortner plays Beethoven…
LE MECANO DE L'OREILLE, ("The mechanic of the ear") by Gert Jonke, directed by Stéphan Barbarino and filmed for television.